You can directly give to the Ecuadorian Red Cross though PayPay here.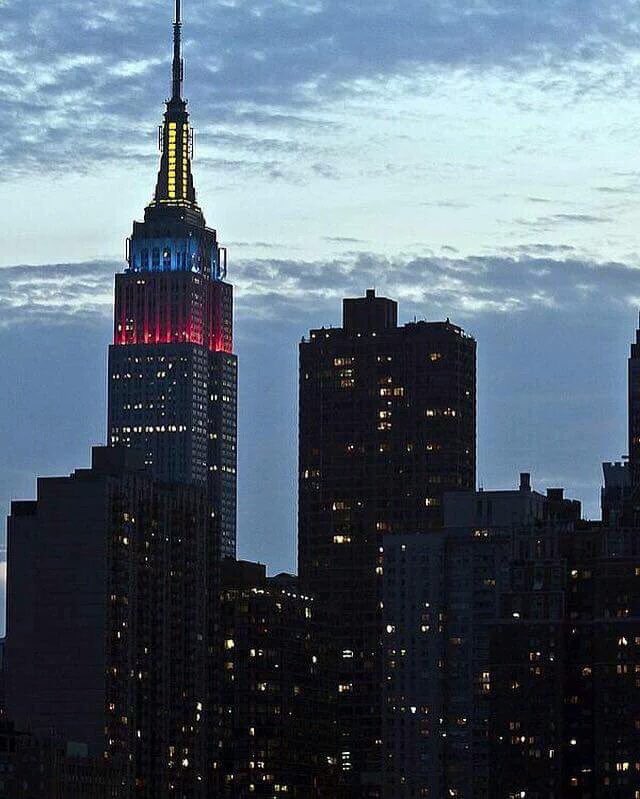 Empire State Building in the colors of Ecuador. Photo credit Twitter.
5:30 official death toll is now at 262 according to Vice Interior Minister Diego Fuentes though their official twitter feed. There are also 2.527 injured.
4:40 President Correa lands in Ecuador from Rome. He is expected to address the press soon.
#DesaparecidosEC is already helping some people find missing relatives and friends. Social media is becoming a critical took during disasters.
3:50 El Salvador joins Mexico, Spain, Colombia, Venezuela and Peru in sending aid and teams.
#DesaparecidosEC remerges as a hash tag to help locate missing people after the Ecuador earthquake.
3:15 According to the office of the President of Ecuador here are the latest casualty figures: 246 dead and 2527 people who were injured. We have no reports on how many missing persons, but there are missing persons, according to the postings on social media.
3:00 Rescue dogs on scene in the city of Manta. The teams are police teams.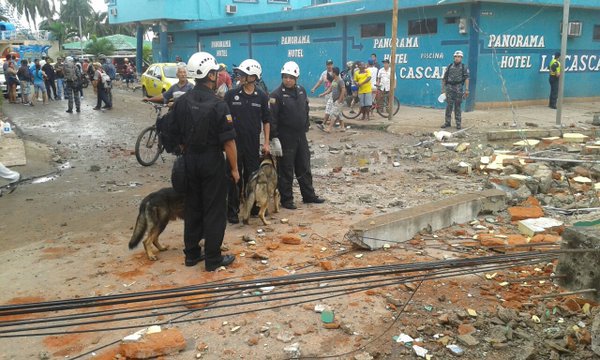 2:25 Peru is also sending a Urban Search and Rescue team (USAR)
Skype is making national and international calls free to Ecuador for the next few days due to the damage to the communications infrastructure.
April 17, 2016 (San Diego) The is the ongoing blogging on the Ecuador Earthquake.
What we know so far:
The United States has offered help
Other nations have as well.
Mexico, Venezuela and Colombia are sending teams and supplies to the affected Area
At least 2 American expats are missing in the zone as we reported.
1557 people injured and 235 confirmed dead, according to authorities
Confined space rescues are ongoing
Damage to structures is wide spread and thousands are left homeless
Major roads remain closed
Airports in Quito and Guayaquil were closed overnight
Aftershocks are coming as expected.
The city of Pedernales was the worst affected according to the office of the Presidency
Personfinder has been active since last night
---
---
Categories: Uncategorized