Close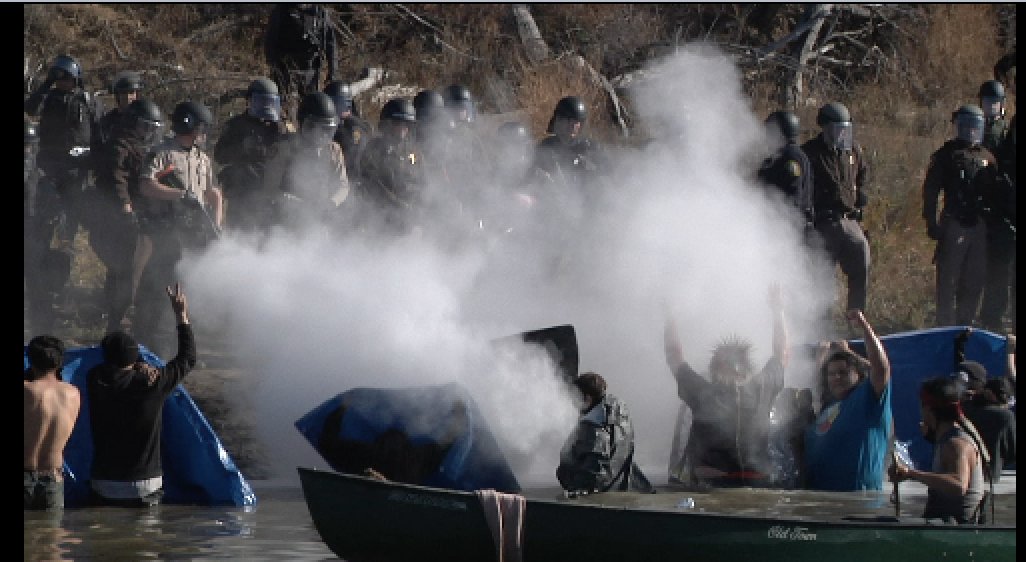 (Photo via Twitter, Josh Fox)
Analysis Reporting San Diego
Nov 2, 2016 (San Diego) We are watching the continuation of attacks on peaceful protesters at Cannon Ball North Dakota. Today the Morton County Sherriff's office did not just deploy mace and pepper spray, but they did something else. Here is one of the first-hand accounts:
Today many of our protectors tried to cross the river to pray on top of a hill where Ocenti Sakowin ancestors are buried, this place has been desecrated by the police and DAPL. The militarized police responded with brutal force, a young man was shot point blank with a rubber bullet and has been coughing up blood, another woman was shot by one of heavily armed officers on a boat. Many of our people tried crossing the river after police destroyed our makeshift bridge, some of them are in critical condition after they were gassed and maced by police and went into shock from the freezing cold waters. Other brave people kept going back by boat to rescue those that were struggling in the cold water but police in their own boat attempted to stop them. These are WAR CRIMES, we are unarmed we are peaceful, no one even lifted a finger against these cops today. I am disgusted by the state of North Dakota and by this country that continues to perpetuate its genocide against Indigenous Peoples'. #NoDAPL #CrimesAgainstHumanity #WaterIsLife #MiniWiconi#IndigenousRising
The company is also in the process of desecrating sacred sites and destroying the cultural heritage of a people. There is a process that the Federal Government,  in theory, has put in place to avoid this. It includes in many cases cadaver dogs, to try to find ancient burial sites. I am sure you do not want grandma to be dug up. Why are we allowing a company to do it to others? For the record, we have seen these dogs do the work in San Diego's backcountry. They are impressive.
Sacred Stone Camp added a new video: Police Desecrate Burial Grounds, Tear Gas Water Swimming Prote…Like Page


Police are currently desecrating the burial grounds of Alma Parkin and Matilda Galpin, the indigenous women who once owned the Cannonball Ranch, where Dakota Access is working day and night to finish their pipeline though they have no permit to cross the Missouri River. They have unleashed pepper spray and tear gas on water protectors standing in the river with their hands in the air. In the last shot, notice the small tree on the top of the hill where the armored vehicles are staged. This is the grave site. This is unacceptable.
#NoDAPL
The company has also mishandled cultural items and did not report finding them. They are in the process of getting sued and likely fined. This is via Salon
Documents show that artifacts found last month weren't reported to state regulators for 10 days. Fedorchak and the state's chief archaeologist say the site was properly handled, with Energy Transfer Partners moving the pipeline route to avoid the stone cairns and other artifacts.
President Barack Obama has said that the best choice might be to reroute the pipeline away from these sensitive lands. But the company never filed an environmental impact report, or for that matter did a cultural assessment of the lands it wanted to go through. For starters, it is required by law, and we know it is very expensive.  They moved on with this project all hell be damned and diverted away from white populations north of Bismark. You might ask why? Well, those people were concerned about water downstream from the pipeline. Sounds familiar?
What the company is doing is destroying native cultural assets. When the Islamic State did this, it led to horrified collective cries across the West. After all, Nineveh and Palmyra are seen as one of the points where civilization, Western civilization, started. We have no qualms about doing this to native peoples Oh and here is a photo of ISIL blowing up a cultural asset. It is from one of their videos. They were proud of it.
We have seen this before in Europe as well. During the Holocaust, German troops burned Jewish temples and sacred books.
This is not different from what is happening in North Dakota. If you are horrified at the Islamic State destroying archeological sites. or the above photo gives you the willies, this should as well. This is happening right now, in North Dakota.
And so should this video
These were personal items, some are sacred. Some are that which is necessary to perform the water ceremonies. I know, from having watched some locally that likely include sage bundles. Maybe even dream catchers.  I might not fully understand the sacred significance of either, but I respect it. Just as I expect others to respect the cross or sacred wine.
Some facts you should know.
The President has asked for the pipeline to be rerouted.
If the pipeline is not completed by the end of the year, it might have to be canceled. It is a cost thing and the drop in the value of oil in the tar sands of the Bakken fields.
The United Nations, the National Lawyers Guild, the ACLU and Amnesty International are already looking into human rights violations.
There is increasing international coverage on this, and it should. But we should also see an exponential growth of coverage nationally.
The Morton Sheriffs invoked a mutual aide agreement to bring officers from eight other states. The other time it was activated was after the death of Freddie Gray in Baltimore.
Solidarity across faiths is starting. These are Jewish Rabies performing ceremonies in Philly, again via twitter.
Happening now in Philadelphia: Rabbis leading Jewish ritual & praying water in solidarity w/ #StandingRock#NoDAPL
There are reasons for a local independent paper to cover this. Yes, it is in North Dakota. In case you do not know, many local tribe members are in North Dakota. This is drawing members from not just across the nation, but across the world. It is not just Kumeyaay from San Diego County, but also Maori from New Zealand, and Quiche Maya from Mexico and Guatemala, as well as Inca from Peru.
This is a critical point in not just the struggle of first people's, but the world. If you do not care about the heritage of first peoples, perhaps you will care about climate change. It is connected. We are watching ethnic cleansing and cultural genocide.
Nadin Abbott holds a Masters degree in history from San Diego State University. 
---
---
Categories: Uncategorized