And this is the White House Statement on the matter.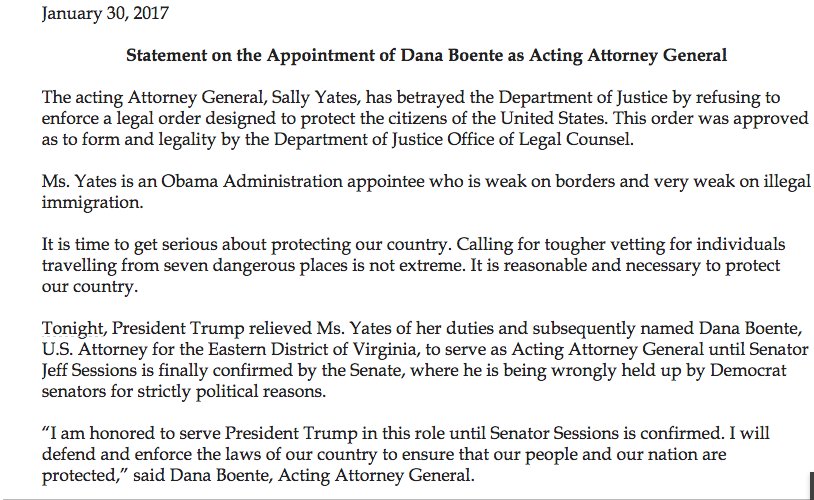 We are updating this with recent developments, which for the record, do not surprise us.
Jan 30, 2017 (WASHINGTON) Assistant Attorney General Sally Q. Yates has said that her department will not defend President Donald J Trump's executive order, which the administration calls extreme vetting. This order has been called "mean-spirited" by Senate Democratic Leader Chuck Schumer.
She wrote in a letter to Department Employees, as quoted by CNN:
"My responsibility is to ensure that the position of the Department of Justice is not only legally defensible, but is informed by our best view of what the law is after consideration of all the facts," she said in a letter. "In addition, I am responsible for ensuring that the positions we take in court remain consistent with this institution's solemn obligation to always seek justice and stand for what is right."

"At present, I am not convinced that the defense of the executive order is consistent with these responsibilities nor am I convinced that the executive order is lawful," she wrote.
She is the acting AG, and was appointed by President Barack Obama. She is serving until the new AG is sworn in, and this could affect hearing and the chances of AG nominee Jeff Sessions.
This refusal, however, launches the administration into a constitutional crisis eight days after the president took the oath of office. The White House is also at loggerheads with professionals at the State Department who did sign a letter of criticism of the White House. Sean Spicer, spokesperson fo the White House, said that they either got with the progream or could leave government service. This is after the top layer of the department was functionally neutered after mass resignations. Some are calling it a purge.
Are we at the beginning of a Constitutional Crisis? Is this what all this about? This is not an idle question and I suspect this will be clear in days to come. However. the Acting AG refusing to defend in court this executive order indicates that at least to some professionals this order is not even legal.
---
---
Categories: Uncategorized