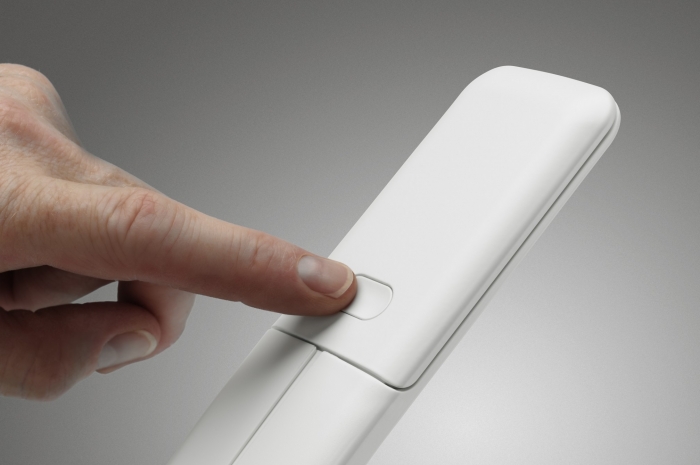 Amble Task Light Colebrook Bosson Saunders
Amble Task Light Colebrook Bosson Saunders
Amble Task Light Colebrook Bosson Saunders
. . . . . . . . . . . . . . . . . . .
With their design capability CBS are always willing and able to provide solutions when standard products are unsuitable. Sales support is excellent, providing a valuable & efficient service. In summary, Good quality, value for money products with excellent sales support.
The single-piece design swivels, slides and allows the user to adjust Amble to any one of three vertical positions, creating three distinct pools of light from the 500 lumen LED light; ranging from expansive to concentrated. The unique gravity actuated shade within the light housing automatically prevents the glare so common with adjustable task lights.Stephen Copeland, known for crafting timeless task light designs, has dubbed his new light Amble because of it conveys relaxed and easy movement.
No minimum order value for free shipping, order today and pay no extra delivery charges.
Created by renowned lighting designer Stephan Copeland and manufactured in the U.S by LightCorp, Amble is free of hinges and articulating parts. A minimal, smooth shape welcomes the user to touch, explore and position light, inviting the interaction required for great ergonomic lighting.
Kate is the Marketing & Membership Executive for the BCFA. She thinks that the beauty of design comes from great craftsmanship and has a masters degree in tea-consumption. If you would like to appear in Design Insider, please email [email protected]
com View all posts by Kate Nannery →
Colebrook Bosson Saunders will have exclusive rights to distribute Amble, throughout the Europe, Middle East and Africa region.
I order, stuff turns up. I ask, questions get answered. I ask for help, I get help. Whilst this seems simplistic for a review, it doesn't need to be any more complex, because I get what I need, and when I need it, and in a way I like a great deal.
Very happy with CBS. Thanks for great service and great products.
BCFA OPEN SPRING DESIGN exhibitors Colebrook Bosson Saunders (CBS), are proud to announce that they will be exhibiting a new task light, Amble.
"First, it must help people understand and hopefully feel comfortable in the space they are in. Second, it must set mood and tone, and ideally convey the personality of the space or an organisation. And third, and most important, lighting must focus on the flow of visual information so people can do their best work. Amble solves the problem [of unintended glare] because the gimbal shade automatically falls to gravity, preventing glare."
To find out more about this piece, visit stand 5 at BCFA OPEN SPRING DESIGN this march!CONTACT COLEBROOK BOSSON SAUNDERS
This website uses cookies to ensure you get the best experience on our website. More info     
Related Images of Amble Task Light Colebrook Bosson Saunders