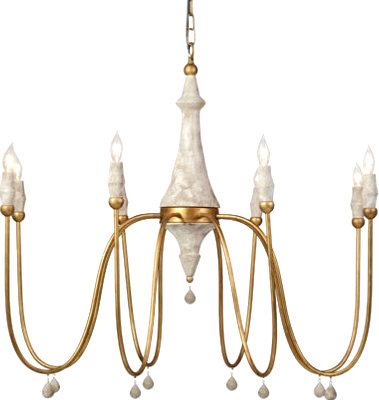 Editor's Pick Top 5 Modern Chandeliers Blog
Editor's Pick Top 5 Modern Chandeliers Blog
Editor's Pick Top 5 Modern Chandeliers Blog
. . . . . . . . . . . . . . . . . . .
The Caboche collection, by Foscarini, was designed by Patricia Urquiola and Eliana Gerotto in 2005. Caboche is the result of observing a pearl bracelet with different eyes. The collection features spherical elements combined with a modular arch structure. This modern chandelier is composed of transparent globes made of polymethylmetacrylate. A shade with a white matte finish and glass offers direct light projection as well as diffusion throughout the space.
Is it a notebook scribble or a coiled spring ready to bounce? It's easy to see either quality in the unique Spiral Nest Cascading 3 Light Chandelier. The process for creating these intriguing pieces ensures that each one is truly one of a kind and earned it "Best in Show" from the Interior Design magazine at the ICFF in 2013.
This eye-catching pendant was recognized with the Red Dot Award for Best Lighting Design in 2015. The Red Dot Awards are giving out by the Red Dot Institute and is an internationally recognized label that indicates quality. I love the tromp d'oleil effect this light creates through the woven pattern, natural wood exterior and bright, colorful interior.
The Spillray collection, by AXO Light, was designed by Manuel Vivian. Spillray centers on crisp, transparent blown Pyrex diffusers. The collection features glasses in various shapes and colors (crystal, red, orange, or grey) and a chrome plated metal support.
The Good Design Award is presented by The Chicago Athenaeum: Museum of Architecture and Design and recognizes the most innovative and cutting-edge industrial, product, and graphic designs produced around the world.
Who knew the concept behind a snow globe could become a fascinating pendant light? The Mountain View Pendant Light captures a mountain range inside a hand-blown glass dome. An LED light source gives the mountain range a glistening effect. Unusual and unexpected, this pendant light won "Best of the Year" from the Interior Design magazine in 2015.
Surreal and engaging, the Ballet Chandelier is a light and graceful design, thanks to its eye-catching texture. The material is patented SIMETECH, developed by Arturo Alvarez himself from a handmade, malleable blend of stainless steel mesh covered with silicone—an innovative take that surely factored into its win for Interior Design magazine "Best of Year" Award in 2014.
This cool chandelier combines several design elements into one amazing light fixture. With sleek globe light shades and an aged bronze metal frame, this eclectic chandelier could fit into a trendy urban loft or even a more traditional home that is ready for a change. This fixture has some wonderful craftsmanship and detailing in the design elements; it's easy to see the effort that was put into designing this chandelier. If you are looking for a unique light that will set your home apart from the crowd, then this is the one for you.
Not all spaces call for an extravagant or over the top light fixture, in that case you need to instead turn to this beautifully designed chandelier. It is simple, but stunning in it's quality and refinement. This piece has classic styling that would look great with super modern décor or even in a more livable contemporary atmosphere. This timeless chandelier is sure to remain the perfect addition to any modern home.
If you're looking for a chandelier that will have visitors in awe, then this is the right chandelier. It features a unique design that resembles falling rain droplets. With beautiful teardrop crystals and a modern ceiling mount, this lovely fixture is sure to impress. Because of the gorgeous length of this piece it would look especially great in an open entryway or anywhere that has tall ceilings. The design of this fixture is so charming and lovely it will be hard to ever turn it off.
The Zeppelin S1 designed by Marcel Wanders provides gentle diffused lighting. Its white powder coated internal steel structure is sprayed with a unique "cocoon" resin to create the diffuser.  The chandelier also includes a faceted crystal globe located at the lower center as a central jewel for a sparkle effect.
Designed by David Chipperfield in 2004 and imported from Italy, the Chandelier Chandelier features a sleek structure of metal grey or black aluminum and stainless steel suspension cables.
A chandelier makes a statement in any room it is put in, but finding the right one for your room, style, and budget can be difficult. There are some great options out there though. Modern chandeliers come in a variety of styles and design aesthetics including edgy, sophisticated, futuristic, glam, and more. So for under $500 you will find that there is an amazing array of fine chandeliers to choose from. These are the top 5 picks for some of the best you can find.
Tags: Compasso d'Oro Award, Interior Design magazine, Red Dot Award
The Volver LED Suspension Light represents Terzani's first fixture designed exclusively around energy-efficient LED lamping. Layers of handmade chain drape in lustrous strips over a linear LED bar, creating a statement piece that is both extravagant and strikingly modern. The Volver Pendant Light represents a point where cutting-edge technology compliments luxurious design, following Terzani's deeply rooted heritage of combining traditional Italian craftsmanship with generations of innovative designers, concepts and technologies.
If you're looking for a modern chandelier that has some of the same qualities of traditional chandeliers, then look no further than this enchanting light. One of the most mesmerizing and appealing qualities of a traditional chandelier is the use of crystal prisms. This chandelier is beautifully draped with crystals of several styles, but also maintains a modern appeal with its use of shiny chrome and sleek lines. The combined effect is dazzling! This chandelier would fit right in with bohemian, glamorous, and boutique styles.
The dazzling Hope Suspension Light looks like something out of a sci-fi movie. The innovative feature of this light is that it provides all the beauty of glass without the weight. The design was inspired by the Hope Diamond and comprised from a series of thin, polycarbonate Fresnel lenses that provide the diotropic effect seen with glass. Hope was awarded the Red Dot Design Award and Good Design Award in 2010, along with the XXII Compasso d'Oro ADI in 2011.
There are a number of awards in the design industry that serve as a prestigious notch in the belt for brands and designers alike. Here are 10 of the most noteworthy, best-of-the-best in modern pendant lighting:
https://www.lightingparadise.com/chandeliers/modern-contemporary-chandeliers/lite-source-5-light-chandelier-ls-19755.html
The Bling Chadelier pairs the luminescence of glass drop beads with multiple incandescent lamps for a modern take on traditional crystal fixtures. The Large Chandelier features a 35″ overall diameter and available in Polished Nickel or Deep Patina Bronze metal accents.
From sumptuous to streamlined, these striking modern chandeliers are sure to create a focal point in any room.
Spiral Nest Cascading 3 Light Chandelier from Ridgely Studio Works
Don't let the simple silhouette of the Archetype Pendant fool you. Embodying Danish minimalism, this pendant transforms itself with high technology and innovative light diffusion. These features combined with the elegant style earned the Archetype Pendant a Red Dot Award in 2012.
The Crown Major Suspension is a modern interpretation of the traditional chandelier structure. Designed by Markus Jehs for the Italian brand Nemo, it is made of  die-cast aluminum with frosted glass diffusers. This chandelier will provide indirect ambient illumination to any room.
This distinctive chandelier features a cool minimal design that would complement many styles. With simplistic lines and a raw unrefined vibe, this chandelier is one of a kind. This chandelier would look amazing in with mid-century modern décor or a more industrial type of interior design as well. The minimalist design lends itself to many spaces and has an almost classic feel to it that is flexible, style wise.
The Agnes Chandelier – 14 Light is a Ylighting exclusive. Its elegant design, features a modular anodized aluminum structure with articulated joints. The articulated joints allow Agnes to change appearance making it a versatile piece that can be customized to fit the needs of any room. Agnes's glowing glass tubes add to the inspiration from the candelabra.
Established in 1954, the Compasso d'Oro is awarded by the Association for Industrial Design and recognizes superior quality, ingenuity and excellent design.
https://www.lightingparadise.com/chandeliers/modern-contemporary-chandeliers/savoy-house-1-350-5-13-argo-5-light-chandelier.html
Traditionally, chandeliers have been understood as central, sculptural installations that are the visual focus of a room. The 14 Series, designed by Omer Arbel in 2005, is one of the first collections to challenge this idea. The 14 Series is an ambient chandelier, achieving its power through a strategy of composition and clustering. The 14.14 is a chandelier comprised of 14 cast glass pendants configured with a rectangular or round canopy. Light interacts with the bubbles and imperfections of the cast glass to produce a glow reminiscent of small candles floating within spheres of water.
To see the latest in notable award-winning pendant lights (and other lighting), be sure to check out the Red Dot Product Design Awards, coming up on July 3, 2017.
Editor's Picks, Ideas + Inspiration Top 10 Modern Chandeliers
There are many factors that define a successful product. From innovative materials to energy efficiency and even a beautiful silhouette, each of these elements play a part when considering whether a new lighting design is award worthy. They are especially dramatic when it comes to award-winning pendant lights.
A quick glance at the Wireflow 2D 2-Light Pendant will certainly cause you to do a double take. Seemingly paper thin, a bold geometric shape and two-dimensional illusion are possible with the flexibility of LED technology. The Wireflow was awarded Interior Design magazine's "Best of the Year" Award in 2014.
Editor's Pick: Top 5 Modern Chandeliers Under $500 Posted by paradiseblog, on August 3, 2017
https://www.lightingparadise.com/chandeliers/modern-contemporary-chandeliers/savoy-house-1-820-6-13-berlin-6-light-chandelier.html
Embodying movement, the design of the Swirl LED Pendant Light takes advantage of flexible LED technology. By mounting LED strips on the inside of the metal stampings, the pendant gracefully disperses light in all directions. This popular light has a bevy of awards to its name: The Lighting for Tomorrow "Honorable Mention" Award in 2014, was recognized in the Indoor Category by the Next Generation Luminaires SSl Lighting Design Competition in 2014, and was recognized by the Illuminating Engineering Society (IES) Progress Committee for providing advancements in lighting in 2014.
Winner of the IIDA/HD Product Design Award in 2012, the Spiro Suspension Light calls to mind microscopic images of flowers. Inspired by latticework, the repeating circles are created from wood veneer spirals putting a modern spin on a classic design element. The IIDA/HD Product Design Award is bestowed on the winner by the International Interior Design Association for innovation, function, and aesthetic advancements in product design for the hospitality industry.
Tags: AXO Light, Bocci, Flos Lighting, FontanaArte, Foscarini, Moooi, NEMO, Robert Abbey, Rock and Hill, Terzani
https://www.lightingparadise.com/chandeliers/modern-contemporary-chandeliers/dainolite-85302-pc-clr-bohemian-8-light-chandelier.html
https://www.lightingparadise.com/chandeliers/modern-contemporary-chandeliers/lite-source-3-light-chandelier-el-10119.html
Two unrelated functions come together in the Cyrcus Lavagna Pendant Light for a truly unusual light. The simple dome shape features a pop of color on the shade's interior that plays nicely off the matte black exterior. As an extra surprise, the matte black exterior finish is a special resin that functions like a chalkboard. Draw, scribble, doodle and write your way into a your own truly unique light, which was the recipient of the German Design Award Special Winner and the Iconic Award: Interior Innovation, 2016.
Inspired by the heracleum plant, the Heracleum II Pendant features delicate, thin compositions of LED lights that can make a statement in any setting. The white leaves connect the branches replicating organic structures. The Heracleum leaves are not frozen in one position; they can be freely re-positioned by rotating them around their stem.
Related Images of Editor's Pick Top 5 Modern Chandeliers Blog