How To Light A Dining Room
tech lighting How To Light A Dining Room
tech lighting How To Light A Dining Room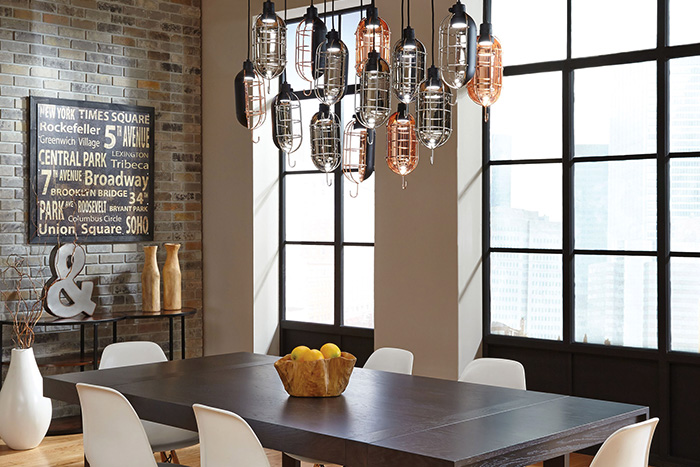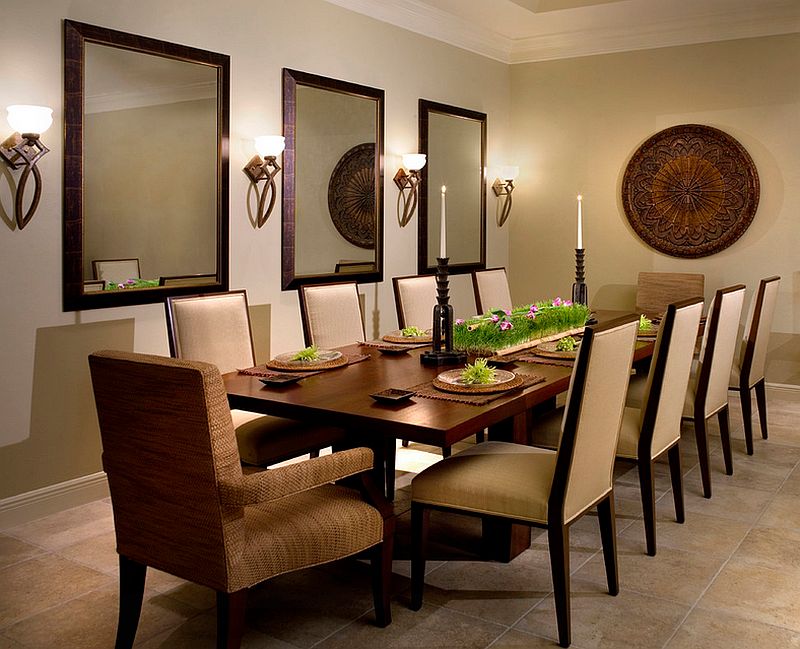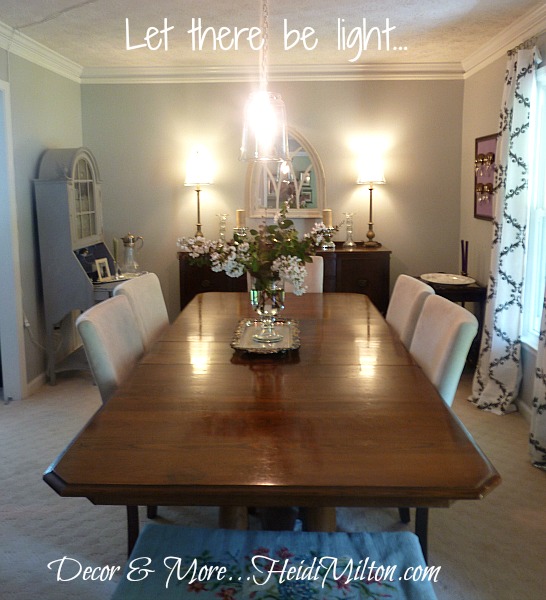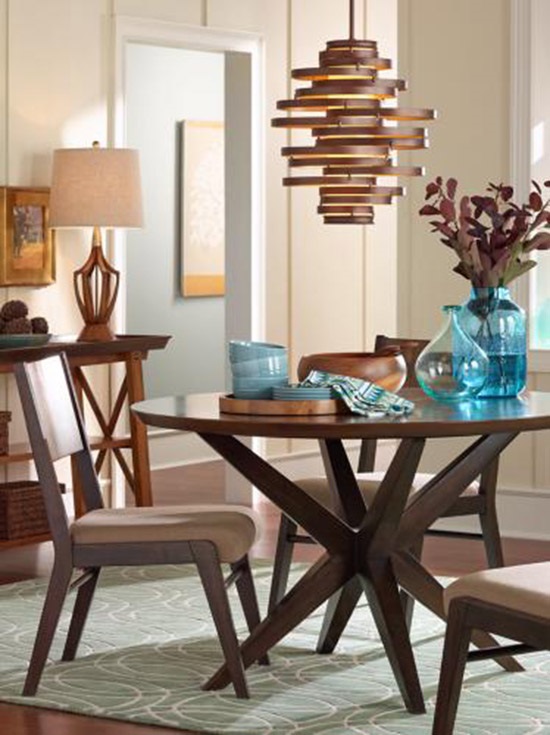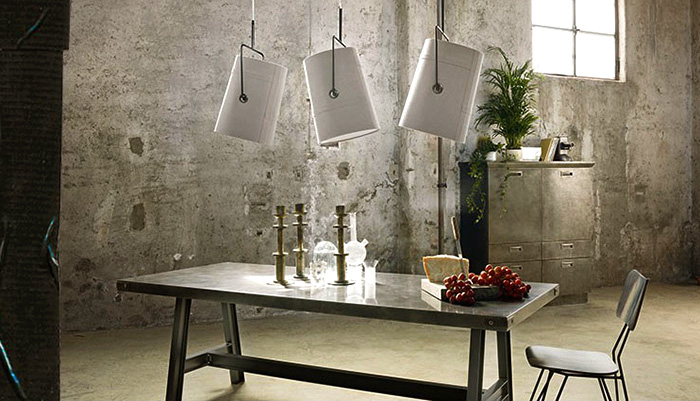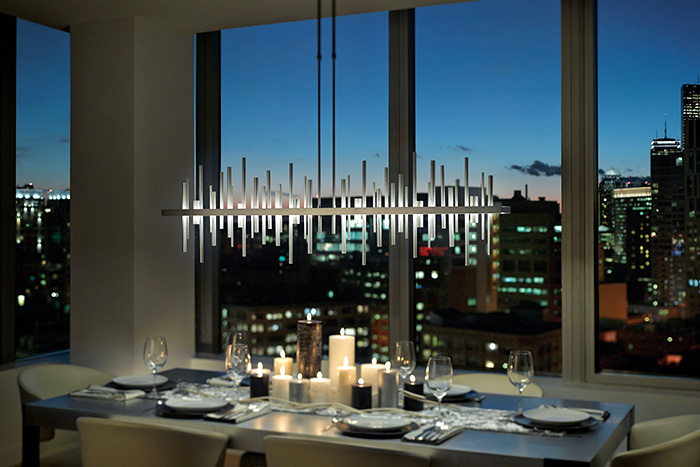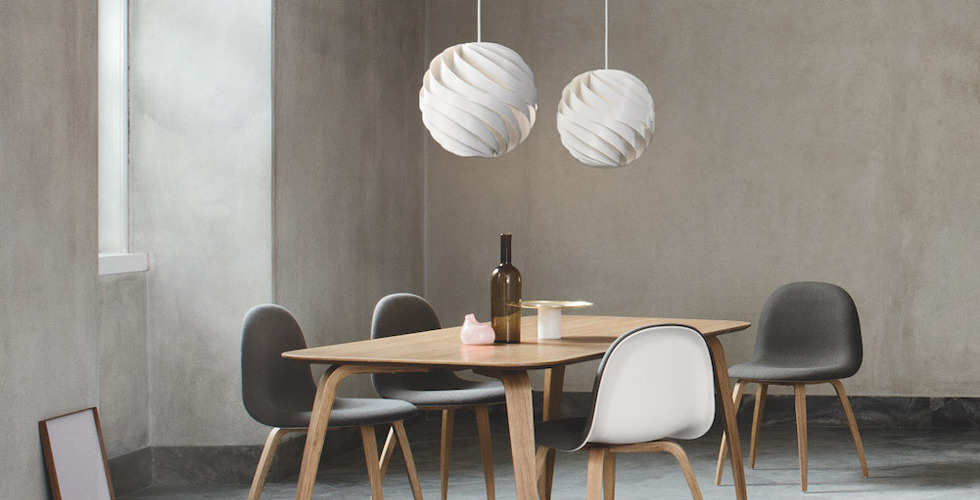 If you're trying to decide between options . . .Take the Shape and Style of Your Table into ConsiderationThe overhead fixture you choose and the table itself "don't have to [have] a direct geometrical correlation, but there should be some proportional consideration," says designer Russell Groves. A long or unusually large chandelier would obviously overpower a short table, and vice versa a teeny-tiny bulb might look silly above a big table. Same goes for the look: A lovely old farmhouse table would do well with a lovely farmhouse fixture or something super-modern for contrast—but either way, they should be considered together.
SS: I prefer to have the light fixture centered on the table. But if you want to play with that a bit you can pick something that has multiple light sources, clustered or in a linear format, like in the Bocci 21.36 Rectangle Chandelier or the Spillray 10 Light Chandelier.
To make the room multifunctional . . .Supplement the Lighting Solution You ChooseIf you end up with nice, warm candlelight over the table, you might need to add sconces or downlights to supplement the glow when the room is used for anything other than an intimate dinner. (Dining room tables are very good for DIY projects, we'd like to note).
If you're sick of the typical dining room look . . .Consider Less Traditional FixturesFrom paper lanterns to pendant lights, the options certainly don't stop at chandeliers. Groves suggests creating a constellation effect by hanging a group of lights, or by placing a floor lamp placed beside the table rather than mounting a fixture at all. Maybe you're devoted to crystal (understandable, Groves says, as "it's been around for hundreds of years for good reason"), in which case consider a more modern shape fashioned from the traditional material.
If you're a fanatic about light quality . . .Be Selective with the Bulbs You UseWarm light, cool light, bright light—you can get exactly the brightness level you desire with the right bulb. For lots of ambiance, try vintage-inspired filament bulbs. If it's more a particular shape and style you're after for an exposed-bulb fixture, try decorative bulbs.
Tags: AXO Light, Bocci, Flos, Foscarini, Louis Poulsen, Pendant Lights, Sara Story, TECH Lighting
Sara Story: A dining room needs to have atmosphere and the perfect fixture and light output help achieve this goal. The light should sparkle and flatter. Usually a dining room is a smaller space with less going on than, say, a living room—fewer furnishings, often just a dining table and chairs. So a light fixture can be a central feature, like a beautiful piece of jewelry that's also functional. A table has to be durable, chairs have to be comfortable, but a light fixture can be more adventurous because no one's touching it, no one's spilling food on it. It's the perfect opportunity to have a sculptural element that creates a mood.
If you're into geometric lines . . .Get Creative with the CordWhen hanging a pendant lamp with a very simple silhouette, feel free to get creative with the cord: Zig-zag it from wall to wall around a corner, tack it in swags along the ceiling, or loop it over a hook on the wall.
Designer Sara Story offers expert strategies, ideas, and product picks. They say the kitchen is the heart of the home, but for those who love lingering over meals with friends and family, the dining room shares that billing—especially during the holiday season. The right lighting fixture can make the room visually and practically, and contribute to mood and functionality. Here, New York City-based designer Sara Story, known for her elegant and eclectic interiors and a new line of graphic wallpaper, offers her tips and ideas on how best to light a dining room.
SS: It's interesting to work with scale and proportion and you can play with it depending on the look you are aiming to achieve. For a small room, I love a big fixture, like the Skygarden by Marcel Wanders. Something large-scale in a small room is whimsical and humorous, like seeing a mouse next to an elephant. I also love the Tropico Vertical Suspension Lamp fixture—its large scale is playful and unique. It evokes Polynesian or Asian traditional lighting, but in a contemporary way. Alternatively, using a small-scaled pendant lights can be interesting, like the Alva Pendant Light. A lack of presence can be very defining, too. I'd use a mercury-tip bulb for a vintage feeling, and hang a single one over an island, or a few over a counter.
If you'd like to jazz up a fixture you already own . . .Customize the LampshadeA reflective material inside the shade will help cast light back down toward the table, Groves points out, while perforated shades will turn any bulb into a twinkly light (if that's your prerogative). "Textured fabrics like raw silk will add a beautiful warmth and shadow to a room," he says, but should you require a more directional cast "an opaque shade wouldn't give you a lot of glow in the room, but would put more on the table." Just because a fixture has shades you're not into doesn't mean it's the end of the line. Swap them out!
What kind of fixture do you like to hang over a long, rectangular dining table? How about over a round dining table?
Joanna Gaines Is the Reason I Can Finally Be a Proud Homebody
To soften overly bright overheads . . .Add a DimmerDesigner Sam Allen feels strongly about the worth of a dimmer switch: "If your dining room chandelier is not hooked up to a dimmer, call an electrician right now. I mean it. Don't even finish reading this—call your electrician first." With the simple pressing of a lever or turning of a knob, dimmers allow you to control the brightness of the bulbs, which is particularly important if you're dealing with often-harsh overhead lighting. "To me, chandeliers should mimic candlelight," says Groves—and that warm, dim glow is possible if you just install dimmers. Plus, they're available in both modern and traditional silhouettes that will add considerably more charm to the walls than those plastic switch plates you hate anyway.
Consider Can LightingIn this stunner of an L.A. home by design collective the Archers, a Le Corbusier-inspired table is lit with simple can overhead lights (definitely on dimmers).
Is it important to center a light over a dining table? Is there another approach people should consider to light their eating area?
SS: To get the best light quality on the table, a light should be installed 36 inches from the bottom of the fixture to the top of the table. That's the standard. In a double-height room, or in cases where we want to engage with the larger architectural space, sometimes we'll do 40 inches.
SS: I prefer all decorative fixtures be on dimmers so you can adjust as needed. When you're having dinner with the kids and talking about your day, you want to be alert, so I'd make the light brighter. But when you're drinking wine with friends, you want to dim the lights. I typically use 60-75-watt bulbs. Warm light is the most flattering in a dining room
When hanging a pendant or a chandelier . . .Take Care to Hang It at the Correct HeightToo high and a pendant lamp might look stuck to the ceiling, constricted; too low and you won't be able to see your guests around it. Somewhere in between is just right, so step back and consider it at various lengths before settling on one. "When you're seated, you don't want [the fixture] to be in your face—the same way everyone gets annoyed when flowers are in the way," Groves says.
If you need a simple, super-inexpensive overhead . . .Get a Porcelain Bulb SocketSay you've just moved into a new place and need some overhead lights in the dining room ASAP—that hole in the ceiling where they used to have a pretty flushmount isn't going to fill itself. Or maybe you're ready to install overheads for the first time but can't afford the chandelier of your dreams just yet. Enter these simple porcelain light sockets, which are a cinch to install and look surprisingly chic with a bulb plonked in. Best part? They're about five dollars.
SS: It all depends on the architecture and design of the space, as well as the style and form of the table. I don't follow a rule. However, I like linear fixtures for rectangular tables, such as the Agnes Chandelier or Woody Endless Pendant by Roll and Hill. They are so elegant and crisp, and the proportions are perfect. I usually try to find something that's about a third the length of the table.
Forego It AltogetherSconces, floor lamps, even table lamps can do the job of overhead pendant and flushmount fixtures—so don't force one if you're not sure you like the look at all (proof, via Amelie Colombet's apartment).
Chandeliers and pendant lights are typical go-to lights for dining rooms. Can you suggest another type of lighting someone should consider for this type of room?
What is the best way to incorporate modern lighting in a more traditional dining room?
How to Trick Out Your Pup's Space, According to Dog Hotel Architects
Newsletter Sign UpAD 360SubscriptionsSubscribeCustomer ServiceRenew SubscriptionGive a GiftChange AddressInternational SubscriptionsContact the EditorsContact AdvertisingAccessibility Help
If you have no interest in hard-wiring a thing . . .Get an Arc Floor LampYou can have proper overhead lighting for your dining area without hard-wiring a thing overhead. All you need is an arc floor lamp; they plug right into a wall outlet but stand tall, with a long, curved neck that will position the bulb and shade directly over your table (how's that for simplified?). The Arco floor lamp by Flos is classic, but more budget-conscious shoppers can spring for similar styles from retailers like Wayfair (or even Amazon!).
SS: Normally I wouldn't do a flush mount in a dining room, but if a room is boxy and the ceiling is low, the Anemone Large Flush Mount would be great, especially with a lacquered ceiling. Table lamps are nice on consoles or sideboards in dining rooms, as are decorative sconces. I also recommend light sources at different levels. I love Roll and Hill's Excel Table Lamp, and the Panthella Lamp would look fantastic in a traditional setting. The classic AJ Wall Light has a beautiful form and would add a great pop of color to any room.
Any tips on how to pick the right size or scale of fixtures for the room?
Vary HeightsAs evidenced by a playful display in this NYC apartment, some pendant lamp pairs look best when they're hung at different heights.
Our Magazine SitesAllureArs TechnicaBackchannelBon AppétitBridesCondé Nast TravelerEpicuriousGlamourGolf DigestGolf WorldGQGQ StylePitchforkSelfStyleTeen VogueThe New YorkerThe SceneVanity FairVogueWWired
Use of and/or registration on any portion of this site constitutes acceptance of our User Agreement (updated 5/25/18) and Privacy Policy and Cookie Statement (updated 5/25/18). Architectural Digest may earn a portion of sales from products that are purchased through our site as part of our Affiliate Partnerships with retailers. Your California Privacy Rights The material on this site may not be reproduced, distributed, transmitted, cached or otherwise used, except with the prior written permission of Condé Nast. Ad Choices 
Unless you like eating in the dark, you need a light in your dining room—but the kind of fixture is not always an obvious choice. The best dining room lighting ideas are thoughtfully planned out; they take your actual eating habits, furniture proportions, and budget into consideration (e.g., if your "dining room" is a card table smushed up against the wall, you probably don't want to invest in a massive, fancy chandelier). And though we wouldn't blame you for screwing a lightbulb into a simple hardware store socket and calling it a day, there are also pendant lights and chandeliers and flushmounts and sconces to consider (not to mention some pretty amazing floor lamps you should probably know about). So we rounded up our best dining room lighting ideas from the AD and Clever archives—from strategies for light bulbs to shopping ideas and design advice—to help you find the perfect fit for your dining room . . . or breakfast nook, or coffee table that you secretly use as a TV tray.
The Way Cuter (Way Kinder) Way to Get In on the Animal Rug Trend
What's important to keep in mind when lighting a dining room?
SS: There are so many variables. I recently had a client with a traditional and dark dining room, so I selected the Bocci 28.19 Round Pendant Chandelier to add something white and light and contemporary. If the space was more informal I might have picked the Ilde Max—the red cords make it playful and fun. Another good choice for a traditional space is the Foscarini Wave Suspension Lamp. I love how it appears to be floating in space—it has a nice lightness and a tranquil feel. Sometimes if the architecture is bold you want the fixture to be simple, to keep attention on the molding or ceiling application. That's what you see in a lot of old traditional European buildings — contemporary fixtures in old paneled rooms make the space current.
This 270-Square-Foot Parisian Duplex Fits a Four-Person Family
In fashion designer Marysia Reeves's Venice Beach home, a breezy, lantern-like fixture hovers above the wood dining table.
See DoubleIf your table is super-long, consider getting two or more pendant lights to distribute the glow evenly (that way everyone will be able to see their dinner). We love this "duet" fixture by Swedish newcomer Hem.
Fix Up an AntiqueIf you find an antique fixture you love—like this lantern-esque piece in the home of design duo Heiberg Cummings—just rewire them and they'll be good as new. Source on sites like eBay, Etsy, and 1stdibs (or at your local thrift store!).
If you've got a small round table, a globe or round chandelier is a no-brainer, since it echoes the table shape, or I'd cluster individual pendant lights. I like odd numbers for clusters, so I'd go with one, or else a cluster of three, five, or seven.